Malldova
Site for the largest shopping center in Malldova
The MallDova redesign
The largest and most popular shopping center in moldova needs to update their old site. It didn't represent real interest for users and lessees. The task was to rethink the online representation of Malldova's brand and involve the audience in the shopping center's life.
The second step was to create an online platform for the tenants and lessees: shops, restaurants, cafes, where they can share events and discounts. The site should be a user-frienldy place for searching and viewing new products in the world of fashion, entertainment and culture.
The new platform should be convenient for both administrators and tenants. Therefore, special attention should be paid to the administrative part of the site, for easy use and content management.
Designed for humans
I've created a concept for the new Malldova website, inspired by famous and world-class studios works. The navigation was divided on categories of interests: Shops, restaurants, movies, services, entertainments. It's intuitively clear, due to the use of pictograms, and a simple arrangement in the left part of the website.
Thanks to the intelligible separation of site into semantic blocks it was possible to attain simplicity, where all categories are accessible in one click. The most commonly used blocks are brought out to the main page.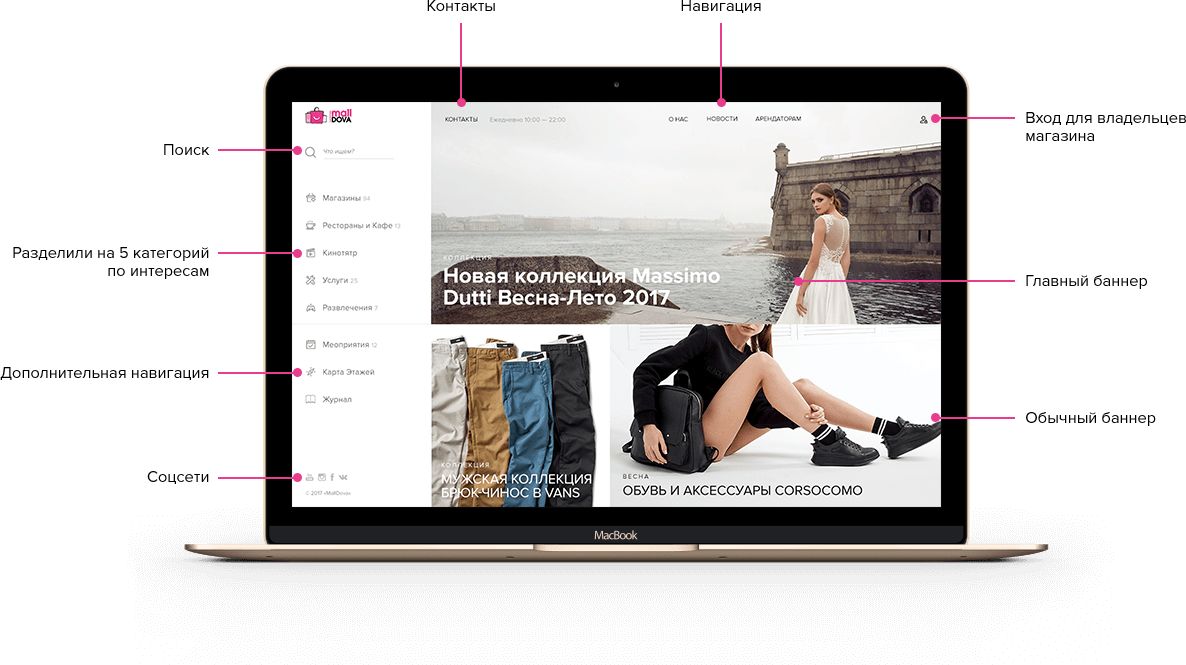 Leaders
I developed this concept to participate in the tender for creating the new site of Malldova. There were explicit problems on the old site, it didn't represent real interest. I approached the task after studying more than 15 foreign resources and derived the best working models.
It was important for me to create actually a real working platform. I paid considerable attention to site functions. Developed block with news which works like the Facebook news feed. Now the site will be constantly renewed and filled due to the content of leaseholders.
The pages "About us" and "Leaseholders" are designed in a new format, so that the owners could easily assume claims and create new partnerships, and be clearly oriented among the site proposals.
I enjoy creating products from concept to release and optimize existing ones so they perform better from both a user and business perspective. My expertise covers the entire digital product design process including brand communication, user experience and user interface design.
For any questions, work or partnership, please feel free to get in touch: work@cojocarumaxim.com
© 2018 Cojocaru Maxim. All Rights Reserved.